Welcome to AntivirusAmericas.com

Powerful security that protects your digital life – EASY TO ACCESS AND CONNECT
Avast Business Cloud Care offers a range of integrated products and platforms, all in one, capable of adapting to your security needs. From enterprise antivirus, to complete end-user protection, monitoring management, and secure networks. It is a powerful product fully adapted to the security requirements presented by the market and your company.
Simple on the outside, smart on the inside
Avast offers security with real-time protection, intelligent threat-detection, and added security for your network, your passwords, and your browser. Easy to install and use, no other antivirus can match it.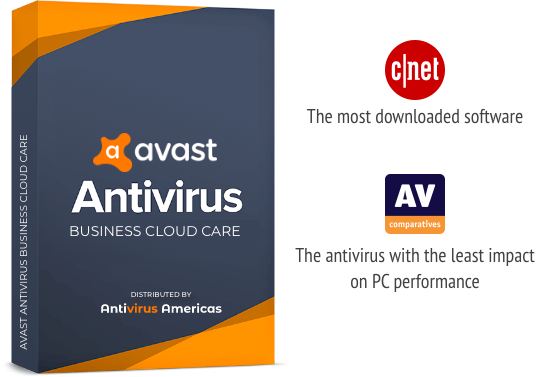 Web Shield
Block dangerous websites before opening them to ensure they are safe.
Web Shield
Please check website URLs and certificates to ensure they are secure before a network connection is established.
Behavior Shield
Stop dangerous programs and applications on your device.
Behavior Shield
Malware can hide deep within the programs you use. Behavior Shield monitors them all for suspicious activity to prevent attacks.
firewalls
Filters network traffic and stops untrusted connections.
firewalls
If you lock the doors of the business, you have to do the same with the network. To do this, we offer you a powerful, customizable Firewall that stops unwanted visitors.
Rescue Disc
Create external backup antivirus to recover compromised PCs.
Rescue Disc
With a special external disk, you can run malware scans before the operating system boots. In this way, malware that is found in the recesses of the system that otherwise could not be found can be discovered.
Email Shield
Continually check for threats in emails.
Email Shield
Scans both incoming and outgoing email messages to ensure they don't contain any malware.
Network Inspector
Analysis tool to discover vulnerabilities in your network.
Network Inspector
Cybercriminals now have more means than ever to sneak into a network. Use our network analysis tool to find and repair weak spots that may pose a risk.
Browser Cleaning
Delete junk files that slow down your browser.
Browser Cleaning
Unwanted plug-ins and unnecessary browsing data can affect employee performance or put data at risk. Keep your system up and running safely and quickly with regular browser cleaning.
Sandbox
A safe environment to test questionable files and programs.
Sandbox
If you have dangerous files and want to open them, use our virtual ``safe space``, where you can safely run any file outside of the rest of your PC.
Exchange protection
Analyze email attachments and protect communications.
Exchange protection
Scans and filters emails that have malicious attachments or dangerous links to prevent internal communications from being threatened by malware.
Data Destroyer
Permanently delete files that you do not want to recover.
Data Destroyer
Deleted files can be easily recovered. Destroy confidential documents that contain financial information or customer and employee data forever.
SecureLine VPN
Make open networks secure, anywhere in the world and protect against DDoS attacks.
SecureLine VPN
Always use private connections on all networks or wi-fi connections that your employees use to prevent other people from seeing and stealing your identities or business data.
Legitimate Website
Stay away from sites designed to steal your data.
Legitimate Website
Fake websites are one of the tools that hackers use the most to get people to mislead their personal information. Avoid entering these sites and protect your employees. Stay protected from sites that can steal your data.
SharePoint protection
A secure digital space to store and share corporate documents.
SharePoint protection
Scans all files uploaded to the shared storage space to prevent malware from compromising data.

REMOTE DESKTOP
(Optional)
REMOTE DESKTOP (REMOTE ACCESS) allows you to take full control of all your PCs from anywhere in the world. With the CloudCare agent, connect securely to any device. This tool works remotely, solves problems, performs tasks, restarts computers, transfers files, and you can also chat with users.
Work remotely
Transfer files
Record screen sessions
Text, audio and video chat
Draw on screen
Virtual pointer
Share remote screen
Share local screen
Dual monitor support
View system resources
Remote computer restart

Need Help or Have Questions?
We are here to provide any help you may need. For technical problems or help with installation, use our SUPPORT form to open a support ticket. If you have product questions or if you need information about the product, please use this contact form or if you prefer to speak to a representative call us at (305) 302-5543.  If you want us to call you back, specify that you want us to call you on the following form, and include your phone number and we will be happy to answer any question you may have. If you have a current subscription please include your order number.